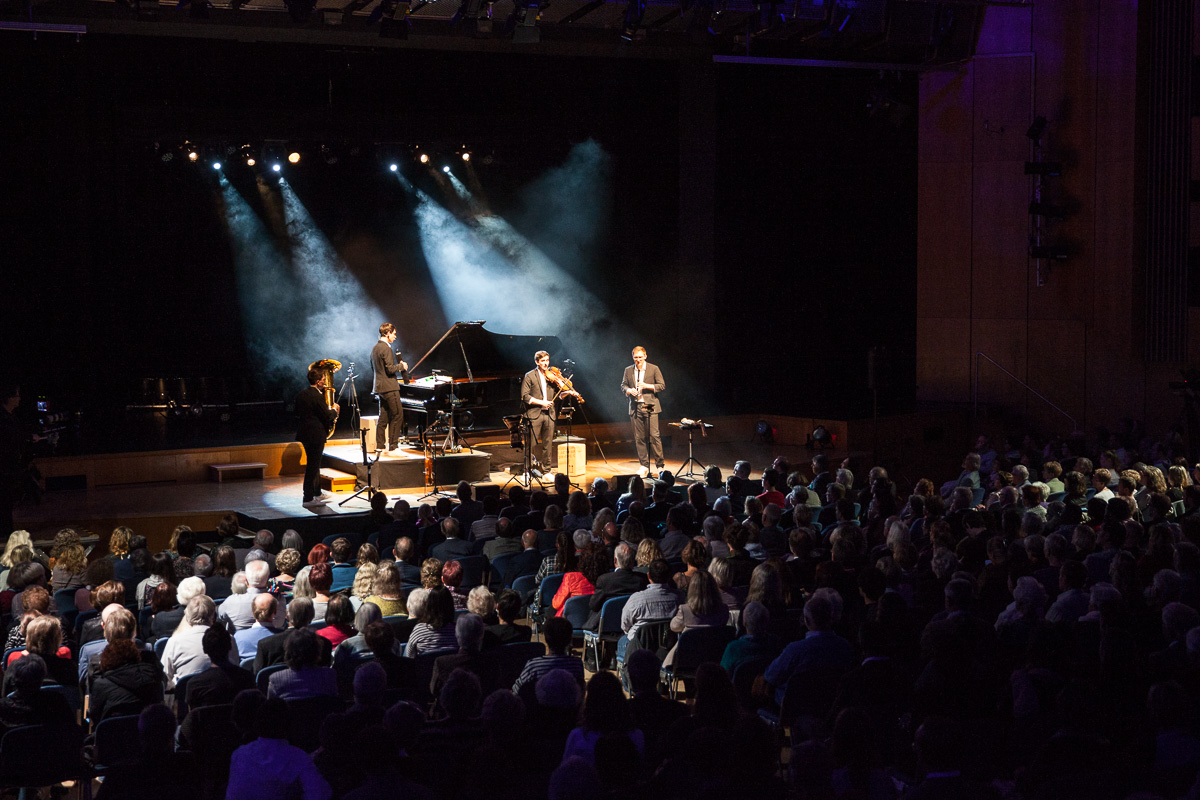 ....Elements - das neue Album
..elements - debut album....
....Mit ihrem jüngsten Projekt "ELEMENTS" kommen alle die das Gängige satt haben, die Vielfalt der Einfalt vorziehen, das "Lebe-lieber-Ungewöhnlich" intoniert haben voll auf ihre Rechnung. Die HANKE BROTHERS interpretieren nicht bereits Vor-Komponiertes, sondern lassen lieber gleich selbst für sich komponieren. Und zwar von Ausnahmekünstlern, die bekannt dafür sind, auf Gesetzmäßiges zu pfeifen und mit Lust, Laune und Talent Genregrenzen niederzuspielen. ..With their latest project, ELEMENTS, everyone who is fed up with the usual, who prefers the variety of simplicity, who would rather "live a life less ordinary" is getting their money's worth. In this project, the HANKE BROTHERS do not interpret pre-composed works, but rather have works composed especially for them - by exceptional artists who are known for flouting the rules and tearing down genre boundaries with passion, whimsy and talent.....

#1 Oliver DAvis
.... Der britische Komponist Oliver Davis hat in minimal music den vier Naturelementen ein musikalisches Gewand gegeben. Das Wechselspiel der Instrumente lässt Feuer, Wasser, Luft und Erde in furiosen Klangbildern aufleuchten. .. The British composer Oliver Davis uses the minimalistic genre to represent the four natural elements. The instrumental interplay vividly brings forth fire, water, air and earth in furious sound images. ....
#2 Aleksey IGUDESMAN
....Der international gefeierte Geigenstar und Komponist, hat für die vier Brüder gewagt, was noch keiner vor ihm wagte: er vertonte die sieben Kontinente. In "7 CONTINENTS" verbindet sich Humor, Klassik und Pop zu einem wilden wie virtuosen Mix, einer atemberaubenden Reise um die Welt, in der man die Kontinente musikalisch "erspürt". .. The internationally acclaimed violin star and composer, has ventured for the four brothers what no one before him dared to dare: he set the seven continents to music. In" 7 CONTINENTS," humour, classicism and pop are combined in a wild and virtuoso mix, a breathtaking journey around the world, in which one can musically "feel" the continents.....
#3 Stephan BOEHME
.... ...überrascht mit "4 SKETCHES", die sowohl Tango und Ragtime als auch Scherzo und Walzer präsentieren. Er ist vor allem bekannt durch Musikvideos großer Klassik-Labels. .. ...surprises with "4 SKETCHES," which present tango and ragtime as well as scherzo and waltz. He is best known for his music videos of great classical music labels.....
#4 Jonathan HANKE
.... ...ist der vierte und jüngste Komponist. Mit Sturm und Drang zu Revolte und coolem Groove begeistert er mit jeder seiner Kompositionen, so auch mit seiner "BROvertüre". .. ...is the fourth and youngest composer. He delights with each of his compositions, including his "BROvertüre", with everything from Sturm und Drang to revolt and a cool groove.....
....Elements - Kinderkonzert
..elements - Education Concert....
.... Nach dem neuen Bildungsplan sollen Schülerinnen und Schüler in verschiedenen Kompetenzbereichen gefördert werden. Darunter fällt auch im Fach Musik das Erleben von Musik, nicht nur, um in der Lage zu sein, Musik beschreiben zu können, sondern insbesondere auch, weil die reale und individuelle Auseinandersetzung mit Komponisten, Musikern und deren Musik die Persönlichkeit und Identität der Schüler fördert. Speziell für SchülerInnen, Kinder und Jugendliche gibt es ein spezielles Konzertprogramm, bei dem die Instrumente nicht nur erlebt und gehört werden, sondern auch ein Hauch Magie im Spiel ist, was jeden - auch Erwachsene - zum Staunen bringt.
Unterstützt wurden die Hanke Brothers dabei von Thomas Toppler (Regie) und Stefan Siebert (Zauberkünstler) - lassen Sie sich verzaubern: ...Especially for children and youth, the Hanke Brothers created a education concert, based on "Elements": .....